We are especially lucky today! Sarah from The Forest Room is our guest and she shares such a wonderful photo journal of a recent walk that she and her kids enjoyed. Welcome, Sarah, and thank you for sharing your magic with us.
It's too cold. I want to stay inside. Let me snuggle, stay warm.
This is my nature during winter.
Cold. Gray. Sleeping. Still.
This is the nature of winter.
Or maybe it just looks that way. When you're on the inside, peeping out.
Maybe if we go out there, we'll find more life than we expected.
Maybe if we go out into nature, and look for nature, we'll find that the nature of winter is as beautiful as the nature we find any other time of year.
Hmmmm . . . 28 degrees, snowflakes falling. Perfect time to find out.
I bundle the kids and myself, grab my camera and a book, Sharing Nature With Children, and we hop in the car to find a good spot.
Here, this looks good. Lake, field, woods. And the car will be close, so we can warm up.
And look! A buck! Before we even get out of the car.
We begin by exploring. Is there anything to be found in this cold?
A deer hoof print.
A dinosaur footprint! (Feel free to take your imagination along too.)
Then we found a fun crawly space, tree roots hanging over a bank.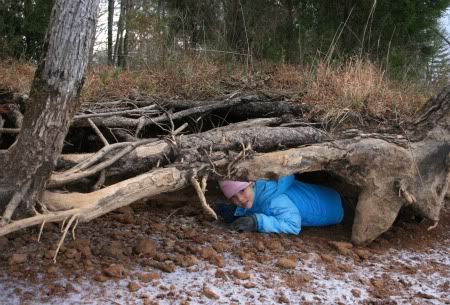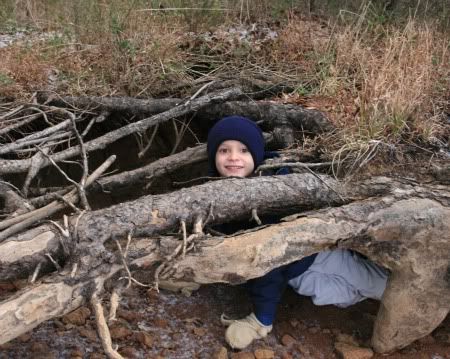 The breeze off the lake is really cold. Time to move into the woods.
Aah! It's warmer here. Let's play a game. Find a tree you like. Look at the branches, the shape of the tree. It's easy to see in winter, with no leaves to block your view. Now be the tree.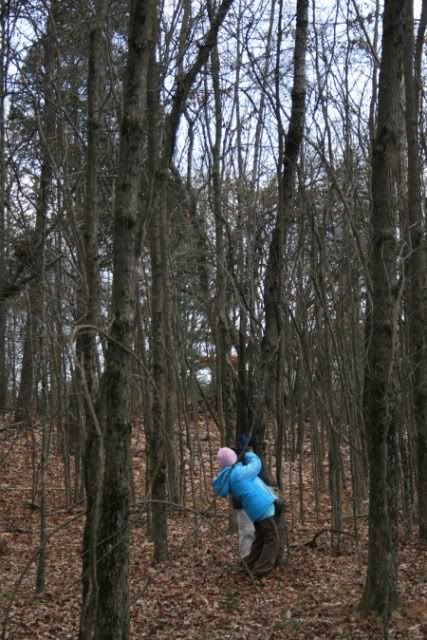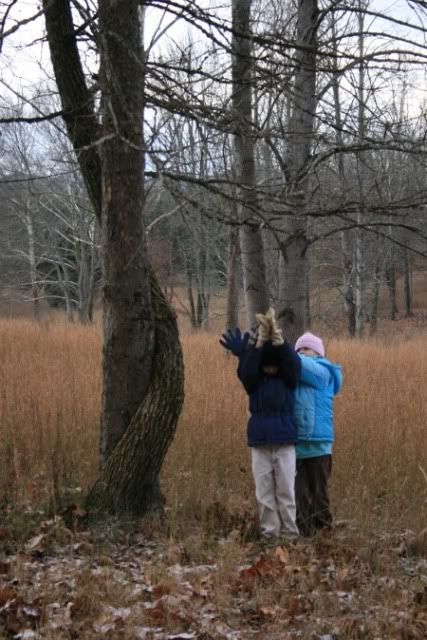 Fun, isn't it? How about another game?
Close your eyes and hold up your fists. Listen. And wait. Every time you hear a bird, hold up a finger.
How many did you hear? 3? 6? 10? It's hard to stay still for very long in the cold. Go exploring some more. See what else you can find.
A leaf skeleton! We just learned about those!
Osage oranges. And sycamore bark.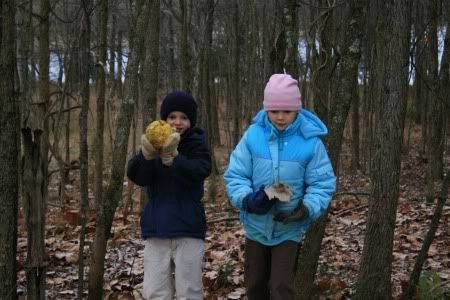 A skeleton.
Now we're really getting cold. Hurry. Get in the car. We'll warm up a bit, then head over to that field.
OK. Ready? Let's go.
Oh! We scared up some birds, hiding in the weeds. Let's close our eyes and listen here. Did you hear more this time?
Look! Flowers. Flowers in winter!
So, the nature of winter? It was definitely cold. But we found so much that wasn't gray or silent or still. We found life and evidence of life and life that had passed and life that would come again.
In winter, we found nature.
Beautiful nature.
* * *
Enchanting, Sarah… thank you for reminding us that each season has it's own treasures. The happiness on the faces of your beautiful children is unmistakable. Even in winter, nature makes us free.
Sarah's blog, The Forest Room, is a delight. It was a very lucky day when I stumbled across it and I have been an avid follower ever since. Sarah, you are cleaving a beautiful life for you and your family and I want you to know that your sharing has helped me be the parent I want to be. Thank you.
Merry Blessings and magic,
Donni